Life is a journey, and each phase of it brings its own unique set of joys and challenges. This phase often marks a time of reflection, relaxation, and rediscovery for seniors. It's a season where the hustle and bustle of the working years begins to fade, replaced by the desire for a simpler, more self-directed lifestyle.
From understanding the various options available to exploring the benefits and considerations, we'll delve deep into the world of independent living for seniors. So, let's embark on this enlightening exploration together and discover how seniors can continue to lead fulfilling lives on their own terms.
What is independent living, and what are its benefits?
Independent living, sometimes referred to as "senior independent living" or "senior living communities," is a housing arrangement specifically designed for older adults who are generally healthy, active, and capable of living independently. These communities are tailored to meet the needs and preferences of seniors while providing a safe and social environment.
Independent Living communities are ideal for active, self-sufficient seniors who seek a vibrant, social environment while enjoying a maintenance-free lifestyle. Independent living offers seniors several advantages that can improve their retirement experience:
Maintenance-Free Living

Active Lifestyle

Social Connections

Safety & Security

Nutritious Dining

Transportation

Sense of Purpose & Community

Simplified Finances

Opportunity to Downsize

Healthcare Access
In a nutshell, independent living makes retirement more comfortable and enjoyable, reducing the stress of homeownership and encouraging an active and social lifestyle.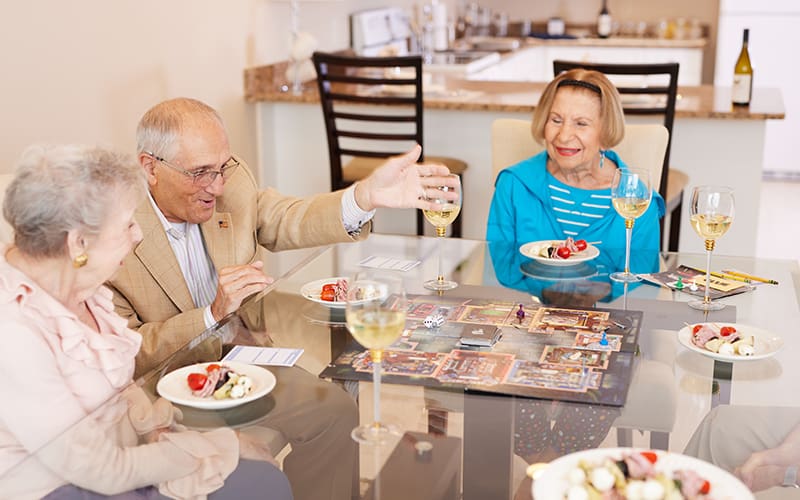 What is a Continuing Care Retirement Community (CCRC)?
Continuing Care Retirement Communities, often referred to as CCRCs or Life Plan Communities, are unique in that they offer independent living and a continuum of care, allowing seniors to age in place as their healthcare needs change. Here's a closer look at the features of Life Plan Communities, and how independent living is part of their structure:
Independent Living Component:

Life Plan Communities typically start with an independent living component. Seniors who enter Life Plan Communities at this stage are active and self-sufficient, similar to those in traditional independent living communities. They live in private apartments or cottages within the Life Plan Community's campus.

Assisted Living and Skilled Nursing:

What sets Life Plan Communities apart is that they provide a seamless transition to higher levels of care, such as assisted living and skilled nursing care, as a resident's health needs evolve. This means couples or individuals can stay within the same community and receive the care they need without relocating.

Healthcare Services:

Life Plan Communities often have healthcare facilities on-site or nearby, providing residents with access to medical care, rehabilitation services, and memory care, if required. This ensures that residents receive comprehensive care tailored to their specific needs.

Social and Recreational Activities:

Life Plan Communities offer a wide range of social and recreational activities, similar to independent living communities. Residents can engage in clubs, outings, and events, promoting an active and fulfilling lifestyle.

Financial Structure:

Life Plan Communities typically involve an entrance fee and ongoing monthly fees. The entrance fee can vary widely depending on the type of contract chosen (e.g., life-care, modified, or fee-for-service contracts), and it often includes some healthcare coverage.
What should you look for in an independent living community? 
When selecting an independent living community, consider key factors such as location and setting, amenities and services offered, the cost and pricing structure, types of living accommodations available, and the community's culture. 
Additionally, assess the availability of healthcare and medical services, staff qualifications and training, safety and security measures, dining options, transportation services, and contract types. Don't forget to explore the range of social and recreational activities, review visitor policies, and seek out reviews and recommendations from current residents. 
If you anticipate needing higher levels of care in the future, look for communities that offer a continuum of care. These considerations will help you make a well-informed choice that aligns with your retirement goals and preferences.
How much does independent living cost?
The cost of independent living can vary widely depending on several factors, including the location, the type of community, the size and layout of the living accommodations, and the range of amenities and services offered. Here are some key cost considerations when it comes to independent living:
Entrance Fees:

Some independent living communities require an entrance fee upfront. The size of this fee can vary significantly and is often influenced by factors like the community's location. When a senior moves out of their residence and it is reoccupied, a portion of the entrance fee is refunded.

Monthly Fees:

Residents typically pay monthly fees to cover the cost of living accommodations, maintenance, utilities, and access to amenities and services. The monthly fee can range from moderate to high, depending on the community's offerings.

Additional Charges:

In some cases, there may be additional charges for specific services or amenities. These could include meal plans, transportation services, housekeeping, or participation in certain activities. With a Life Plan, these are often included.

Contract Types:

The type of contract offered by the community also impacts costs. Common contract types include rental agreements,

Life Plan contracts

, and fee-for-service contracts, each with its own financial structure.

Living Accommodations:

The size, layout, and customization of living accommodations can influence costs. Larger or more luxurious units may come with higher monthly fees.

Amenities and Services:

Communities offering extensive amenities and services often have higher monthly fees. These include fitness centers, swimming pools, dining options, and various social and recreational activities.

Healthcare Access:

Communities with on-site or nearby healthcare services may have associated costs, especially if healthcare is part of the package.

Future Care Needs:

Some communities offer a continuum of care, allowing residents to transition to assisted living or nursing care if needed. While this can provide peace of mind, it may come with additional costs.
When exploring independent living options, be sure to inquire about all associated costs, contract terms, and payment structures. It's advisable to work with financial advisors or retirement planning experts to ensure that the chosen community aligns with your budget and financial objectives. Additionally, consider the long-term financial sustainability of the chosen arrangement to enjoy a worry-free retirement lifestyle.
Discover Independent Living at Sedgebrook
Sedgebrook's 72-acre campus is located in Lincolnshire, IL and provides access to convenient services and a variety of amenities, including an aquatics center, fitness center, two dining venues, a variety of ongoing activities and events, and so much more. If you'd like to explore making Sedgebrook your home, give us a call to schedule a tour.