Did you know that creative activities and crafting are healthy for your brain? According to CNN Health, creative projects require several different areas of your brain involving memory, attention span, visuospatial processing and problem-solving. They're a great way to keep your mind sharp as you age.
Woodworking is a creative skill that people find not only productive but also rewarding. Even a simple woodworking project can become a useful household item that serves a purpose and gives you a sense of accomplishment whenever you see it.
In fact, a Canadian study from Simon Fraser University found that woodworking is meditative and encourages confidence. In essence, it's both productive and calming. As one of our Sedgebrook residents said, "What's nice about a woodshop is you can control the outcome. If a lot of things in your life are out of control, come down here and straighten it out."
If you're interested in giving it a try, here are some easy woodworking projects to get you started.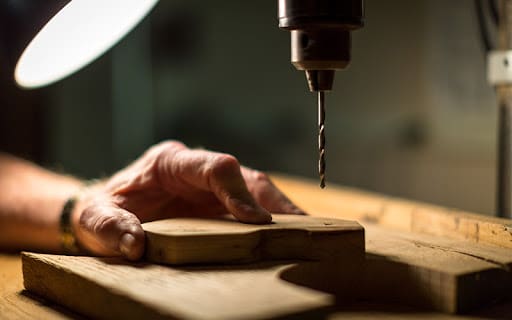 6 Easy Woodworking Projects for Seniors to Try
Serving Tray/Cutting Board
You could finish creating a cutting board or serving tray in one day and then use it all the time. Be sure to use water-resistant wood glue because this piece will probably have to be scrubbed a time or two.
Couch Sleeve
A couch sleeve is a surface that perches on the arm of your sofa and gives you a place to set a book, plate or beverage. It's simple, handy, and it's a project that you can use and enjoy.
Bath Caddy
Give yourself (or a loved one) a place to put a book, loofa, washcloth, or glass of wine while enjoying a soak. This caddy simply lays on the rim of the tub and creates a spa-like feel.
A Tablet or Cookbook Stand
Prop your reference materials upright and keep them visible for easy reading while you're working. After you finish making your stand, you can even use it to help you with all your future woodworking projects.
Entryway Organizer
Keep your keys, wallet, and sunglasses all together for easy entries and exits in this entryway organizer. This design even shows you how to add a fun little flowerpot.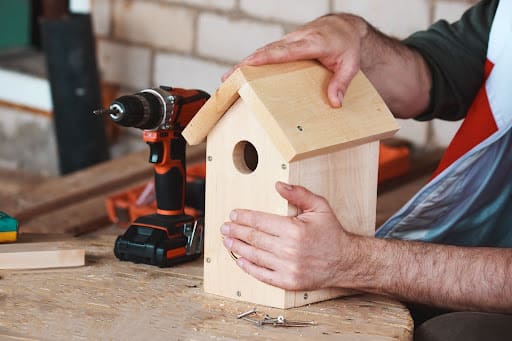 Birdhouse
We had to include a birdhouse—it's the most iconic of all easy woodworking projects. If you have fond memories of high-school shop class or never got to take shop, why not try your hand at this classic project?
Other fun woodworking ideas that will make you not want to leave the woodworking shop:
Shoe rack
Step stool
Napkin holder
Lazy Susan
Set of coasters
Cake stand
Coffee table
We love all these simple woodworking projects for seniors because, in creating them, you're not only exercising important cognitive functions—you're building functional items you can enjoy in your everyday life. Or maybe some of these easy woodworking projects would make good gifts—who do you know who could use a bath caddy?
Woodworking Kits for Seniors
Even when you have your woodworking tools ready to go, you may not know where to start or what you want to build. You can get woodworking kits that provide the materials for you.
These kits provide easy DIY projects that give you the joy of working with your hands without the difficulties of figuring out what to build. Some kits for beginner woodworking projects include:
After you get more comfortable with woodworking and you want to move beyond the kits, you may feel inspired to take a piece of wood and try something completely new. Why not try building a picture frame?
Tap Into Your Creativity at Sedgebrook
If you'd like to learn more about Sedgebrook's woodworking and hobby shop, give us a call to schedule a tour.