At Sedgebrook, our residents are always up to something fun and exciting. We've compiled some of our favorite resident stories that show what activities they've been engaged in and what they look forward to as residents in our senior living community. Ranging from sports, to fitness and themed parties, Sedgebrook has something for everyone.
Stories from Our Residents
Linda Hessel
Linda Hessel is a rising star in Sedgebrook's mini golf championships, having taken home two of the trophies; she looks forward to continuing the friendly competition.
When asked about her recent tournaments, she says, "We just had a ball doing that. We had many, many laughs." In the two competitions she participated in, she played against 11 people in the first competition and about ten in the second.
Two days before the first competition, Linda played mini golf with her daughter and two grandsons, ages 11 and 14, at Par-King, another mini golf course in Lincolnshire, IL. Her grandsons were the winners that day. When Linda received her trophies from winning the mini golf tournaments at Sedgebrook, she couldn't wait to show her grandsons.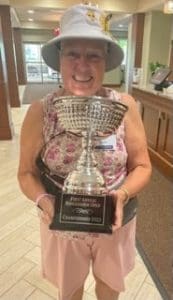 When Linda first retired, she tried a few sports to see which one she liked most. After finding that waking up at 7:30 to hit the links wasn't quite what she envisioned for her retirement and not having the best of luck with bowling, Linda found her niche in mini golf.
She claims her miniature golf game is "just a whole bunch of luck," and she provides some advice for anyone interested in the game. "Just come out and play it just for the fun of it. You're outside, and hopefully when you're out there, you have decent weather. It's just a lot of fun, and you don't need to be an athlete. Anybody can do it."
Linda also likes plenty of other activities at Sedgebrook and enjoys taking advantage of all the opportunities offered at the community. "Chair volleyball is one of my favorites. We have a lot of fun with that. Also, I enjoy the walking group on Tuesdays. Those days I manage to get in 10-11,000 steps a day. I am very happy with moving here to Sedgebrook–almost two years now!"
Judy Gjersoe
Judy Gjersoe's favorite part of Sedgebrook involves all the fitness opportunities. "I love going to the gym," she says. Sedgebrook has a 24-hour fitness center and aquatics center with a pool and a hot tub. In addition to a number of fitness classes, residents can also work one-on-one to focus on their personal fitness goals.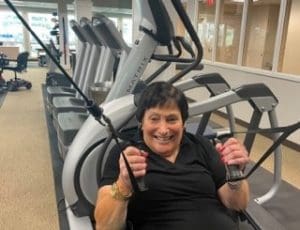 Judy takes fitness classes and works with a personal trainer. "We work on upper body stuff," she says.
When she's not in the gym, Judy says she looks forward to the delicious dining options offered at Sedgebrook, especially the lobster.
At Sedgebrook, you have a multitude of options, so you can choose a meal that you'll love each and every time you visit any of the dining venues on campus. Sedgebrook has three:
Shoreline Restaurant – Serves a formal dinner with table service.
Harvest Bistro – Provides casual options for lunch and dinner, along with a choice for carry-out.
Cardinal Market – Offers coffee, breakfast pastries, snacks and ice cream – all to go. You can also browse the gifts and sundries at the market.
The dining service team always prioritizes using fresh ingredients and preparing healthy, nutritious meals, including providing alternatives that will best fit your nutritional needs.
At Sedgebrook, we take careful steps to ensure residents have delicious meals and enjoy the dining experience. One exceptional member of our dining services team, Executive Chef Kira Eggert, recently won the title "2023 LCS Chef of the Year."
Flora Dierbach
Flora Dierbach, the second resident to move into Sedgebrook, served as Chairperson of the Entertainment Committee and helped form successful Wii Sports leagues for Sedgebrook residents.
When Nintendo introduced Wii Sports in 2006, the residents at Sedgebrook took to playing the video game. Flora told the activities director that she saw a lot of potential in this game.
After starting with Wii Bowling, people began gravitating toward Wii Golf. Flora established a Wii Golf league with 16 players. After ten weeks of playing at $1 per person per week, the league held a banquet. She says, "We had trophies for the winners, we gave away some cash prizes, and it was just a fun, fun thing."
But the skill of the league reached beyond the community. In between those ten weeks, members of the Sedgebrook Wii Golf league traveled to other senior living communities to compete with other Wii Golf teams. Radio stations, TV stations, and ESPN made a production of their competition.
Sedgebrook competed against communities in Virginia, Maryland, and Texas. Of all the communities, Sedgebrook won the tournament.
Bringing home a big trophy for the community amongst other trophies awarded to specific players, Sedgebrook stood out as a community of winners. The Mayor of Lincolnshire visited the community to congratulate them on their win.
"We also bowled against the staff, and we won," she added. Residents still play Wii Golf and Bowling today.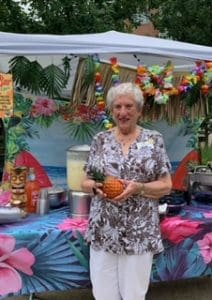 Flora also led the Entertainment Committee in planning fun-themed parties for residents. Working with a team of about ten people, Flora organized parties nearly monthly. The year started with a Super Bowl party, a Valentine's party, and a St. Patrick's Day party.
She recalls the success of the Riches to Rags party, which commemorated Income Tax Day in April. "Our tablecloths were the Wall Street Journal, our placemats were W-4 forms, we had franks and beans as our meal, and we had a gentleman here who had a tin cup who walked around singing "Brother Can You Spare a Dime? Everyone came in rag clothes. One woman came, and she was loaded with every piece of jewelry she owned. I looked at her, and she said, "I got my money back!"
Other parties included a July celebration where a group came in to sing patriotic songs and an Oktoberfest party in the fall.
Flora says, "There is much here to be thankful for and grateful for. If I had to pick one favorite thing – well, I can't. The best thing here for us is the staffing and the residents. The support that you get from staff, the support that you get from residents, and the friendliness of Sedgebrook just cannot be equaled anywhere. We are open arms for anybody who comes in. It's just a nice, warm feeling to know that you've got that support."
She shared that she moved in with her husband, who passed away in 2014. "I had so much help and compassion and camaraderie from the staff and the residents. It's a difficult time at best, but it just made it so much easier for me to continue on with my lifestyle."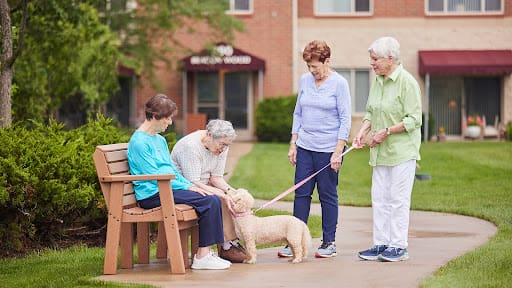 Sedgebrook is an active, vibrant community with all kinds of activities for residents. Flora says, "The amenities that we have, the activities here–there's something for everybody. Many, many card games, many lectures, we have musical entertainers that come in. At one in the afternoon in our Shoreline Lounge, there is always something going on."
Visit Us at Sedgebrook
As you can tell, our residents share an engaged, purposeful, and fun-filled lifestyle. If you'd like to think about making Sedgebrook your home for your retirement, give us a call at (847) 780-9750 to schedule a tour.